Choose your car model
Latest news
Important! Information from CSDD
31.10.2017 Read more >
ML-SERVISS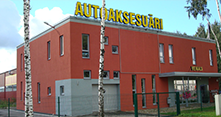 See our location on map
Address: Mazjumpravas street 66, Riga, Latvia, LV-1063
Phone: (+371) 66116670
(+371) 29212095
Email: info@mlserviss.lv
Skype: ml-serviss
About us
Welcome to "ML-SERVISS" home page!
Company "ML-Serviss" was established in 1997. Since the foundation, company has became one of the biggest seller of car accessories in Latvia. We offer an optimal solution of vehicle equipment for individual and business clients. We represent a big number of companies from Poland, Germany, Estonia, Holland, Austria, Italy, Sweden, Russia and other countries.
From year 1999 company has become an official distributor of towbars of Polish company "AUTO-HAK" in Latvia, Lithuania and Estonia. Exactly, that "AUTO-HAK" company is a leader in towbars market, since they starting to produced it from year 1976. The company offers towbars on 1200 vehicles models and more. Products has European certification. Each towbar has an approval and certification number.
"AUTO-HAK" produced three types of towbars:
detachable with the pins
quickly horizontal detachable
quickly vertical detachable
Cityguards, sidebars and frontbars from stainless steel.
"ML-Serviss" is the official representative of Estonian company "METEC". "METEC" has more than 25 years of experience in market of designing and manufacturing auto accessories. The only one company in Europe, which offers a wide range of auto accessories for pickups, minibuses and cargo cars.
We are working with Polish factory "STEELER". Great quality. Fast growing company. All products have EU certification. "STEELER" produced since year 1995. Company takes an important place in car accessories market.
Very useful car accessories as interior car mats or trunk mats. There are wide range in our assortment. Different materials and factories, different sizes and colors, universal and original- everything for comfortable, enjoyable and durable use and keeping your vehicle in clean condition.
It is raining, wind is blowing, water drops into car saloon during opened window... here we can help you! Wind window deflectors and hood deflector, rear spoilers and lattice radiator car cover from cold winter air – that we also have! You feel comfortable and your vehicle looks stylishly! That is consequence of long-term cooperation with the company EGR (Australia) and HEKO (Poland).
You decided to carry your home stuff to summer residence or to go ski in Austria, with all family of 4 people to see a grandmother and want bicycles take with you..? Oh, you make a flat repair..? Roof racks, soft tonneau, ski and bicycle car holders and many more, connected with luggage transportation You can find in our assortment from next producers: AMOS-BIS, THULE, MONTBLANC, FABBRI, TRADEKAR, WJENZEK, JUNIOR and MENABO- they produce, we offer..!
You like to fish, or prefer to hunt.. maybe you have your own agro company? Or you have a vehicle with pick-up carcass? Then all your roads lead to us! Skid plates and winches, soft carcass covers and khungi, which facilitate your life, we also propose!
Skid plates from metal, elastic plastic and lasting alumnium, tow loops, catalytic converters, corrugated mufflers, seat covers, air fresheners, wheels, wheel caps, rear bumper patches, luggage mounting system and many more...without it difficult to live nowadays using a car...
And one more an important thing- everything or almost everything, you bought in our store, we move through ourselves. We mean, we have a various carport and the majority of our products that we offer to our clients/customers are used by us also!
If you do not have enough strength or just have no time... Our service specialists will set the products, you purchased in our store. Huge skills and experience. 2000 of our clients talked about it! We understand, that it is not possible, that all clients stay satisfied, but on a sunny day it could start to rain... or maybe let's apply theory of probability...? whatever! We try to live by fair principle! Do not harm- main rule!
During conversation with the clients, we understand, that it is very difficult to find everything, that the clients want. But our company stuff will make their best to give you qualitative service.
Everything is for You and because of You...
We always are happy to see You in our stores!
Waiting for you at the address - Rīga, Mazjumpravas iela 66.
Call us: +371 66116670; +371 29212095
Write us: info@mlserviss.lv
ML-SERVISS collective
Our certificates